Over the past few years it seems wooden watches have gotten really popular. Being an admirer of watches myself I've taken notice to the rise of the wooden watch market. I always found watches to be interesting which is something I probably picked up from my dad.
I remember as a youngster going into my dad's bedroom and marveling at the watches he had sitting on the top of his dresser. He had various styles with golden and silver wrist bands but his favorite was probably his aviator watch with a black band. He spent most of his working life in the military and his aviator watch would show military time so I'm guessing that's why he liked it.
He never had a wooden watch and I don't think they even made them back then. I remember when I first saw one I thought it looked kind of odd. But after seeing more and more of them I found them to be pretty cool to the point that I bought one.
Since this market has grown so much, I decided that maybe it would be helpful to show what are considered some of the best wooden watches on the market right now. Below, there are 10 wooden watches featured that rank as some of the best. They do make them for women but these are ten of the best wooden watches for men, and many of them can also be worn by women.
1. Bewell W109D Sandalwood Watch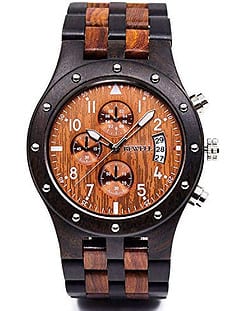 Bewell is company the produces a number of high quality wooden watches and one of their best is the W109D. This watch has a really nice looking wood grain design and has a lot of features including 3 sub-dials, a stop watch, and also shows the date. They come in black, red, or a combination.
Specs
44 mm in size
Quartz movement, chronograph
Hardlex mineral crystal glass
Not water resistant
Note: As an Amazon Affiliate I earn from qualifying purchases. I am also a member of other affiliate programs and may be able to offer special pricing while also earning a small commission.
2. Bobo Bird Lightweight Mechanical Watch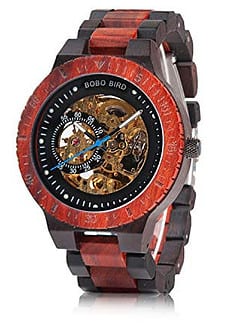 Bobo Bird is another company that produces a wide variety wooden watches. This watch has a really cool face showing the skeletonized movement. The watch case and band are 100% natural ebony and red sandalwoods, and features a self-winding Sea-Gull movement that comes from a well-known watch movement manufacturer.
Specs
 Automatic Self-Wind
21 cm band
23.1 mm band width
47.9 mm dial diameter
Sea-Gull movement
Hardlex dial window
3. Wilds Woods
From wooden watchmaker Wilds Wood here is a watch that is eco-friendly and made from natural wood. This watch has a durable solid wood casing as well as scratch-proof glass covering the visible mechanical gears.  The band is also made of wood and is easy to adjust plus there is no battery to worry about as this watch is self-winding. This watch comes in a nicely made gift box so it makes a great gift.
Specs
48 mm size
2.30 cm band width
Automatic movement
Hardlex glass
Self-Wind
4. CUCOL Wood Watch
In my opinion this is one of the best looking watches on the list. Another good thing is it's not that expensive. This watch has a really handsome authentic bamboo wood face and case, and a really attractive leather band. It's as lightweight as it looks making it really comfortable to wear. This watch also requires no winding and the battery will last two years.
Specs
44 mm
Quartz movement
Glass dial window
33 feet water resistant
5. Gassen James Wood Watch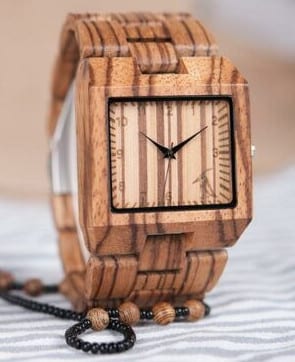 This wooden watch has an elegant look that stands out from other watches. It has a unique square shape and each watch has its own wood grain so no two are exactly the same. This watch is made with un-painted, polished rosewood including the band. You can also get free engraving making this a great gift that will impress the one who is receiving it.
Specs
44 mm
Miyota movement
Wood band
Push button clasp
6. Treehut Men's Zebrawood and Ebony Wooden Watch
This is a really nice wooden watch from Treehut. The design combines zebrawood and ebony wood for a great contrast that  gives it a rugged design. It has a minimal watch face design and you can expect reliable time with its Miyota quartz movement. This watch is not considered water resistant but it will handle a splash or some rain drops.
Specs
4.30 centimeter case
Miyota quartz movement
Wood band
Stainless steel tri-fold clasp with push buttons
7. WeWood Kappa Nut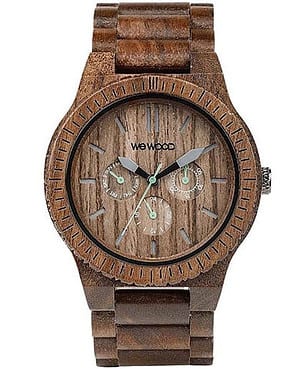 As you can tell by the name, WeWood specializes in wooden products. This company is also environmentally conscience as it collaborates with Trees For The Future to plant a tree for every wood watch bought. The Kappa Nut watch is one of their best and is made from Walnut and varies in color from light brown to rich chocolate. This watch also uses Miyota movement and has military hours, weekday, and date displays set into its woodgrain face. The glass is scratch-proof which is good for active lifestyles.
Specs
46 mm
Miyota quartz movement
Eco friendly
Scratch-proof glass
8. Ovi Watch Cursus Walnut Wood Quartz Watch
This watch is produced by the new-comer micro brand Ovi. Founded in 2016 in Latvia, their goal is to create masterpieces using environmentally friendly materials. The Cursus watch has a clean design reminiscent of a 3D compass and is made of walnut wood. The band is a dark brown vegetable-tanned leather made by hand. It is an extremely light-weight watch that is so comfortable you might forget its on your wrist.
Specs
42 mm
Swiss quartz movement
Eco friendly
CNC machining
9.Original Grain Brewmaster Collection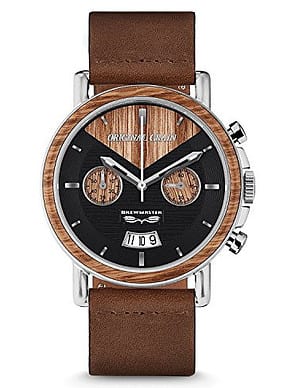 The Original Grain company takes a new approach and builds hybrid watches that combine wood and steel. The Brewmaster Collection uses wood from actual reclaimed wooden beer barrels that come from South Germany. This company also plants one tree for every watch sold. Original Grain timepieces have a distinctive design described as kind of cyberpunk-ish and are extremely well made. The dials have a bicompax design and the is covered by a scratch-proof mineral glass crystal. Other features include a date indicator at six o'clock and are water-resistant to 50 meters.
Specs
44 mm
Japanese quartz chronograph movement,
Mineral crystal glass
50 meters water resistant
10. BOBO BIRD Men's Wooden Watch
Ours last watch on the list is another from Bobo Bird. One thing to mention is Bobo Bird watches are made from sustainably sourced, reclaimed, and recycled wood. This watch made mainly from ebony wood, has subtle contrasting colors featuring deep black and a textured chocolate brown. It has a multi-function face showing military time, date, and a chronograph. It's powered by a Sony battery with a reliable quartz movement.
Specs
23 mm band
44 mm dial
Quartz movement
100% natural wood
Conclusion
So there you have it. Ten of the best wooden watches available for men. Many of these would make great gifts as I write this the day after Thanksgiving. I've found there is a wide selection of wooden watches and most of them being eco friendly. If you like watches but have never thought of getting one made of wood, maybe the information here will make you start thinking about it. Let me know what you think about wooden watches in the comments below. Thanks!
Be sure to check out our own wooden watch collection. We have many to choose from so Shop Now at The Night's Watches.